My Smoke Detector Keeps Beeping
You may have noticed that your smoke detector keeps beeping. It's keeping you and your neighbors up at night and it's an absolute nuisance. There are a few things you want to check to find the problem as to why it's beeping.
The Battery is Backwards: Make sure the battery is installed correctly. Those 6 volt batteries can be confusing. If you can't see small characters, as someone for help to line up the positive and negative ends of the battery. I can't tell you how many times batteries were installed backwards.
The Battery is Old: If the battery is burned out, it will make the smoke detector beep. Buy a new 6 volt battery. Get a pack of a few so you don't always run out of them!
The Smoke Detector is Old: Sometimes once a smoke detector gets too old it becomes defective and putting in a new battery won't even help. Just replace the smoke detector!
Disconnected Wiring: sometimes the wiring inside the J-box got disconnected. Call a professional such as KO Fire Protection if you don't have knowledge of basic low voltage electrical connections.
Dual Carbon Monoxide Smoke Detector
Now more than ever we've been doing smoke detector testing and smoke detector inspections. Its important to have a standard smoke detector in each bedroom and a dual carbon monoxide/smoke detector in hallways and corridors that sit between your kitchen and your bedrooms. Why? If there is a gas leak in your home, the carbon monoxide detector will pick it up before it gets to your bedroom where you and your family are sleeping. This is of vital important that these are in working condition.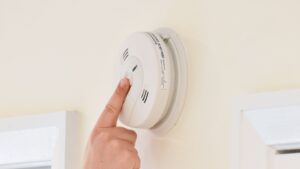 For property owners and property management companies, your insurance company will make sure you test your carbon monoxide and smoke detectors. The process can be tedious to schedule and enter every unit in a building, but its worthwhile and important for life and property safety. Call us at 818-259-4412 we are happy to explain the process to you and provide you with a quote on smoke detector testing. You can also e-mail us at [email protected].